Are skunks bringing an uninvited disruption to your tranquility? Let the proficient team at NW Nuisance Wildlife Control tackle this challenge for you. Armed with a unique blend of advanced removal tactics, preemptive measures, and exhaustive cleaning procedures, we stand ready to restore your skunk-disturbed space. Our licensed professionals are committed to prioritizing your well-being and contentment. We approach wildlife control from a perspective that's anything but ordinary. Count on us for a safe, satisfying, and comprehensive solution, helping you maintain a skunk-free environment with confidence and ease.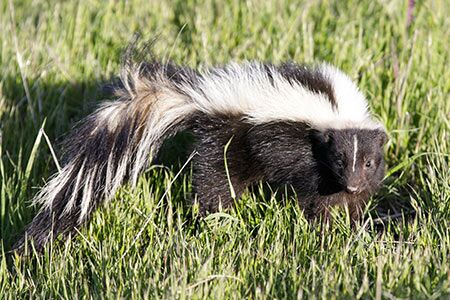 Two species of skunk occur in Washington state, spotted skunks and striped skunk. The spotted skunk sometimes called a pole cat or civet cat is small 14-18 inches and rarely causes issues for people. The striped skunks are usually 22-32 inches in length. Skunks are omnivorous and will eat many types of food but their diet typically consists of insects.
Skunks may get into chicken coops, dig in lawn for grubs or get into crawlspaces or under decks. Skunk spray is extremely malodorous and can cause temporary blindness.
NNWC, established in 1985 is one of the oldest and most trusted wildlife removal companies serving the PNW. We specialize in live trapping, animal control, exclusion and clean up.
We are licensed by the Washington Department of Fish and Wildlife to manage a variety of wildlife conflicts that include: raccoons, squirrels, opossums, beavers, nutria, river otters, mountain beavers, bats, skunks, bobcats and coyotes. We specialize in live animal removal. NNWC serves both residential and commercial customers offering solutions tailored to meet your specific nuisance wildlife conflict needs.
Our trappers have Bachelor of Arts degrees from the University of Idaho in Wildlife Resources and University of Southern California in Environmental Science. Collectively we have over 50 year's wildlife management experience. Whatever the wildlife conflict we have the experience, knowledge and skill to humanely and professionally solve your problem.
Call us at 425 820-7476 to talk about the skunk removal process or you can email us at NNWC1985@willardspestcontrol.com